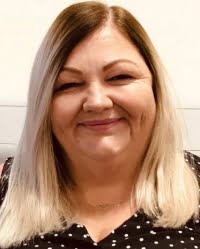 Hi my name is Clare Lackenby and I'm a qualified person centred counsellor with a degree in counselling and a member of the BACP. This means I believe that people have their own ability within them to live life to their full potential. I provide a warm and caring environment where I listen without judgement. I do not give advice or tell you how to live your life. I'm here to support you on your own journey.
I have received specialist training in bereavement counselling at Cruse bereavement care, where I still practice as a bereavement counsellor. I have previously counselled children in a school setting ranging from the age of 5 upwards.
I have worked with clients from a range of ages, sexualities, backgrounds and cultures and have been moved and privileged to be part of each of their journeys.
I have also previously worked for the NHS in a caring role and at the moment I am currently supporting clients over the phone for a mental health charity.
I have worked with clients who have experienced the following issues:
abuse
anger
anxiety and panic
bereavement and grief
bullying
childhood trauma
depression and low mood
difficulty relating to others
emotional impact of physical health condition
family disputes
guilt
lack of direction
lack of feelings
loneliness
loss
low self-esteem
obsessive compulsive disorder
performance anxiety
relationship challenges and breakdown
sex and intimacy
shame
social anxiety
stress and burnout
workplace conflict
Additional training
Courses I have undertaken include:
Awareness in bereavement care foundation course level 2.
Growing around grief and the implications in practice.
Understanding autism.
Working with binge eating and emotional overeating.
Understanding children's development level 4.
Treating generalised anxiety disorder and panic attacks.
Introduction to gestalt.
Certificate of higher education in care level 4.
Working with differences and diversity.
Hidden harm training.
Helping children tell their stories.
Children's emotional well-being.
Safeguarding children and adults.
Working with metaphors.
Attachment theory and self-awareness in the counsellor.
Introducing creative media into your therapeutic practice.
I hold a advanced DBS in children and vulnerable adults.
I work in accordance with the BACP ethical framework for good practice in counselling and psychotherapy. I receive regular clinical supervision and I am always committed to my continuous professional and personal development.